Book by Karmo Sanders
Lyrics by Karmo Sanders & Jerry Sanders
Music by Jerry Sanders
No flash player!
It looks like you don't have flash player installed. Click here to go to Macromedia download page.
Powered by Flash MP3 Player
Synopsis
In July 1897 a few adventurous miners arrived in San Francisco with two tons of gold. The news topped the headlines of papers around the world, and within days, tens of thousands of men, driven by the promise of immediate and unimaginable wealth, were racing to the Klondike.
A courageous group of women joined the fevered rush. Actresses, singers and ladies of the night, they provided the men with songs, dance, humor and sex. These were Women on the fringe of society, seeking freedom and riches in the frozen wilds.
The Story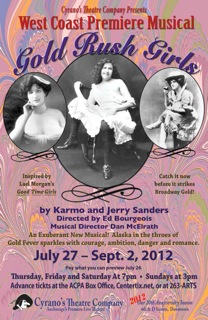 Fleeing an abusive past Eudora Horn lands in Dawson to build "Paradise," the fanciest dance hall in the Klondike. Fanning the flames of the fevered gold rush, "Paradise," is every man's dream of heaven. Here the women are extolled as angels and the barroom rings with song as Ike, Eudora's business partner, keeps the dance hall swinging. Rose and Lily entertain the men with favors and floorshows and, in return, are showered with golden nuggets. Eudora has found the love of her life in the now injured, but once boisterous Captain McNally. She's living the realization of her dream.
And then, her past walks through the door. Barker Smith, a man filled with vengeance, desire and greed. Obsessed with Eudora and everything she holds dear, Barker's goal is to either control or destroy her. When he kills her lover the trap is sprung. Suddenly Eudora finds herself struggling for justice in a lawless land.
The musical Gold Rush Girls is a tribute to these daring entrepreneurs, known as the good time girls.